About FIMRC

FIMRC, Foundation for International Medical Relief of Children, is a 501(c)(3), non-profit organization dedicated to improving pediatric and maternal health in the developing world through the implementation of innovative and self-sustainable health improvement programs.
FIMRC was founded in 2002, is incorporated in Washington, DC and headquartered in Philadelphia, PA. The FIMRC team includes over 3,000 dedicated staff and volunteers worldwide who provide the leadership and support necessary to achieve the mission of improving access to health care for children in underserved communities.
FIMRC currently operates in 7 different countries: Costa Rica, El Salvador, Nicaragua, the Dominican Republic, India, Peru, and Uganda. While the FIMRC mission remains the same for each country, the strategies employed differ by location.
FIMRC also has over 30 college chapters all over the world that work in support of the FIMRC mission by raising awareness, fundraising, and participating in medical mission trips. The Clemson University chapter was founded in 2004 and has been working in support of FIMRC ever since.
Our Chapter
The Clemson University Chapter of FIMRC began as a small group of students, but has since expanded into an organization of over 70 members. Our chapter began participating in medical mission trips through the Global Health Volunteer Program (GHVP) in 2008. Since then, more than 60 Clemson students have traveled with FIMRC.
The chapter here at Clemson focuses the majority of its efforts on supporting the clinics in Central America and the Caribbean. In the past we have sent groups to Costa Rica, El Salvador, Nicaragua, and the Dominican Republic. Each year the Clemson chapter participates in a one-week trip to one or more of these sites during spring break. Our chapter also heavily fundraises throughout the year in support of these clinics.
Our chapter also strives to make a difference in the surrounding community. Our current community partners include – Helping Hands of Clemson and Mauldin Miracle League.
Meet the Team
Emily Perrotta,

President

Carlyn Odom 

Vice President
clemsonfimrc@gmail.com
cufimrcvp@gmail.com
Emily's bio.
Carlyn's bio.
Evey Adams,

Director of Finance

William Garrett,

Director of Fundraising
cufimrcfinance@gmail.com
cufimrcfundraising@gmail.com
Evey is a Sophomore Bioengineering major from Charleston, SC. Evey enjoys to help and hang out with kids both locally and internationally with other fun Clemson students. She teaches cycling classes at Fike and enjoys running, hiking, and playing with dogs, (mainly her golden retriever, Hank). She hopes to go to medical school after completing her undergrad degree.


William Garrett is a Senior Health Science Major from Fountain Inn, South Carolina. Will went to Costa Rica with FIMRC during Spring Break 2016, and will be the Director of Fundraising this year. He hopes to go to medical school after graduating, and one day become a pediatrician!
Ashley Davis,

Director of International Projects

Jillian Robert,

Director of Local Projects
cufimrcinternational@gmail.com
cufimrclocal@gmail.com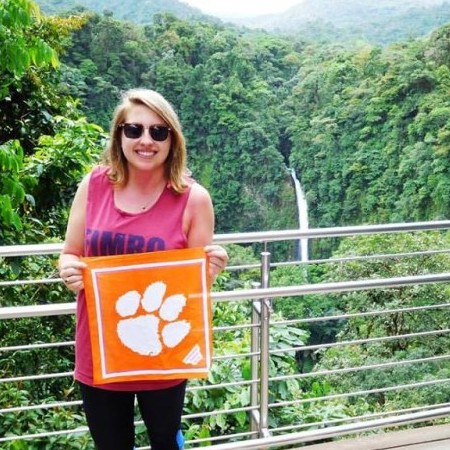 Ashley's bio.

Jillian Robert is a Senior Nursing Major from Sykesville, Maryland.  Last spring break, Jillian was part of the team at the site in Costa Rica.  This year she will be helping to promote child health in the Clemson area as the Director of Local Projects!
Kimberly McClure,

Director of Public Relations

Hazel Gray Hudson,

Web Blogger/Website Manager
cufimrcpr@gmail.com
cufimrcweb@gmail.com 
Kimberly is a sophomore Spanish and International Health major from Greenville, SC. Kimberly has a passion for the international medical field and FIMRC has given her wonderful opportunities to take advantage of her passion. She went on the Costa Rica Spring Break trip in 2017 and loved every minute of it! The service learning really helped her work towards her goal of becoming a Physician Assistant. FIMRC as a whole has contributed to her success as a pre-professional health student at Clemson and she can't wait to see what this year has in store!
Hazel Gray Hudson is a Senior double majoring in Anthropology and Food Science Nutrition. Hazel Gray visited the Project Kodaikanal site participating in the SIHF program during Summer 2017. She is now helping support Clemson FIMRC as the web blogger!